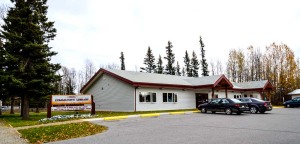 The Delta Community Library is located just off the Richardson Highway at 2291 Deborah Street, (Milepost V 266.5) across from City Hall and next to the Community Center. This new building was constructed in 2004 with Impact Funds from National Missile Defense at Fort Greely. A Community Library has been a important part of Delta Junction since 1960.
Hours:
Monday – Wednesday – Friday 
10:00 a.m. to 6:00 p.m.
Tuesdays and Thursdays
10:00 a.m. to 7:00 p.m.
Saturdays
11:00 a.m. to 5:00 p.m.
Closed Sunday
The Library is also closed when temperatures are minus 40 or colder, October – March
Phone: 895-4102
Library Services:
-Nine Internet Stations
-Wireless Internet Access (WIFI) 6:00 a.m. to 10:00 p.m daily
-Audios, Videos & DVD's
-Copier & Fax Service
-Free Paperback Exchange
-Preschool Story Hour & Baby Laptime
-Summer Reading Program
-Junction Readers Book Club (third Mondays @ 7:00)
-Knitting Circle (First Mondays @ 7:00)
-Test Proctoring
-Newspapers & Magazines
-IRS & PDF Forms
-Government Review Documents
-& LOTS of great books – Bestsellers to classics and more!
VISIT OUR KID'S PAGE