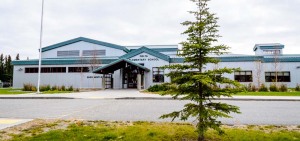 The Delta/Greely School District, Rural Education Attendance Area boundaries encompass what is generally considered to be the entire "Delta area". Since we are located in an unorganized area, the State of Alaska provides state funding for a free, public education for all students in the area.
Directly in the center of the City of Delta Junction, the Delta School houses a Pre-school through 12th grade educational program. Also offering educational opportunities to our students, locally and statewide, is the Delta Charter Cyber School, physically located in a facility directly behind the Delta School.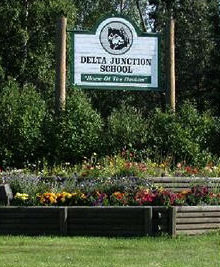 The School District has been through several phases of construction, growth and, unfortunately, closures. Although there is a school facility located on FT Greely, five miles to the south of Delta, the District was forced to close this school in May 2000 because of declining enrollment. At this time, the Delta School is filled to capacity with the remaining student population in the area.
Providing educational facilities in Delta Junction has incorporated some interesting options, to include having overflow classes held at the Presbyterian Fellowship Hall and the Civil Defense Hall (now known as the City Fire Hall). Since initial construction in 1960 (five classrooms for 150 students in grades 1-4), the facility has been through many physical changes to accommodate the fluctuating population in our community, including the addition of modular (portable) classrooms – some of which are still in use.
During the mid-60's, a gymnasium, additional classrooms and a library were added. By 1967, a full K-12 educational program was being provided in the facility and more classrooms were in the planning stage. During this time, FT Greely School was also in use as a high school, then a junior high school and elementary.