Mile 257.2 Richardson Highway
Public Dump Hours
11:00 am to 5:00 pm ~ Tuesdays
11:00 am to 4:00 pm ~ Fridays
9:00 am to 3:00 pm ~ Saturdays (Mar 1 / Oct 31)
11:00 am to 3:00 pm ~ Saturdays (Nov 1 / Feb 29)
Dump Rates: 8¢ per pound ($160.00 / ton) or $5.00 minimum
Contact Scale House (907) 895-1807 during dump hours or City Hall (907) 895-4656 Monday – Friday, 8:00 am to 5:00 pm
A $10 Uncovered Load Service Fee will be charged to all customers who deliver  garbage to the landfill that is not covered per Municipal Code 3.21.070 (b) 2.
AS 46.06.080 – (b) A vehicle may not be driven or moved on a public highway or right-of-way unless it is constructed, loaded, or covered to prevent its load from dropping, sifting, leaking, or otherwise escaping from the vehicle. (c) A person who violates this section is guilty of a violation, and may be sentenced to pay a fine of not more than $1,000.
Burn Barrel Policy  — Any and all burn barrel containers must be declared at the scale house and physically inspected by landfill personnel before depositing.
Landfill personnel will determine if the burn barrel container or contents will be accepted. The contents (ashes) must be cold. No hot ash will be accepted.
No charge to deliver aluminum cans to the recycle bin during business hours.
Landfill closed when -30°or colder
Landfill Policy: Acceptance of refrigerators, freezers and air conditioners
Items containing pressurized refrigerant require State certified removal of refrigerant prior to ultimate disposal.
The City will accept refrigerators, freezers, air conditioners, and other items designed to utilize pressurized refrigerant at the landfill under the following conditions:
1.) Any person (individual or commercial hauler) bringing such a device to the landfill for ultimate disposal must declare the item at the scale house upon entry.
2.) If the device does not have an affixed tag certifying that the refrigerant was removed by a State certified person, the City will accept the device upon payment of a disposal fee of $25.00.
3.) AND a weight fee (minimum weight fee is currently $5.)
4.) If the device's refrigerant has been removed, but has no tag certifying that the refrigerant was removed by a State certified person, the disposal fee is $25.00 plus the appropriate weight fee.
5.) The device may be weighed with other acceptable refuse delivered by the hauler, but the device must be easily separable from the other refuse.
6.) The hauler will be directed to deposit the device at a specific location at the landfill. No other refuse may be deposited at that spot, but must be first unloaded into the proper dumpster. The hauler must unload the device and stand it neatly in the proper area (no dropping or tossing).
The disposal fee is designed to cover the cost to the City of extra handling and storage of the device, and to pay to have a commercial State certified refrigerant remover properly remove the refrigerant and certify the device. The City will then haul and dispose of the device in the proper place in the landfill.
ITEMS ACCEPTED AT CITY LANDFILL
• Refrigerators, freezers, air conditioners that have been previously inspected and tagged. Doors must be removed. Otherwise weight PLUS $25 is charged to remove Freon.
• Paint – DRY ONLY, up to 5 gallons
• Lawn mowers and other small engine machines
• TVs, computers, and other electronic equipment
• Light bulbs in household quantities only – No fluorescent bulbs (contains PCB)
• Construction material – wood, sheet rock, metal, glass, etc
• Scrap metal – purged automotive vehicles only
• Tires
• Propane tanks – valves must be removed
• Used appliances – stoves/ovens, dishwashers, laundry machines, etc
• Furniture, carpeting/rugs, mattresses
• Paper/plastic
• Household/kitchen trash
• Anything that is not a hazard
• 55-gallon drums – tops must be cut off
ITEMS NOT ACCEPTED AT CITY LANDFILL
• Asbestos
• Acids
• Corrosives
• Solvents
• Oily Waste
• Automotive/batteries
• Explosives
• Radio Active waste
• Pathogenic waste
• PCB's (man-made organic chemicals, oily liquids or solids, clear to yellow, no smell or taste)
• Hazardous waste
CITY ROCKS FOR SALE
Boulders range between 500 pounds and 30,000 pounds
5¢ per pound
$150 / hour loading fee, $50 minimum
Contact
City Hall (895-4656)
or the scale house (895-1807)
or visit the landfill to select rocks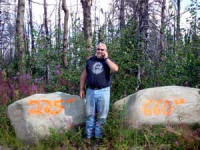 Left to Right:
4,500 pound rock
(5 cents per lb. = $225
and 13,200 lbs
(5 cents per lb. = $660)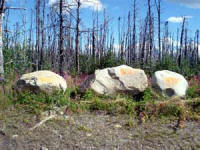 Left to right:
8,000 lbs, 16,000 lbs, and 9,400 lbs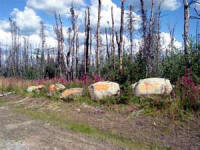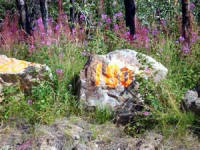 #4 rock = 3,600 lbs ($180)