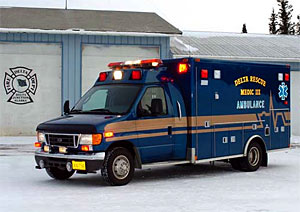 Always dial 9-1-1 in the event of an emergency.
Delta Medical Transport is located at the Fire Hall
1325 Delta Avenue
Phone: (907)895-4356
https://www.delta-ems.com/
The City of Delta Junction began contracting ambulance services in 2013 after relying on volunteer EMTs for over 40 years. Delta Medical Transport paramedics provide Advanced Life Support ambulance transports in Delta Junction and its surrounding area 24 hours a day, seven days a week as far east as Dry Creek on the Alaska Highway, south to Black Rapids on the Richardson Highway, and north to Banner Creek. All transported patients are taken to Fairbanks Memorial Hospital or Bassett Army Hospital.
Family Medical Center is located at 2360 Service Street, off the Richardson Highway.
Phone: (907)895-5100
Interior Alaska Medical Clinic is located at 2730 Alaska Highway.
Phone: (907)895-6233
http://www.crossroadmc.org/DJNClinic.html