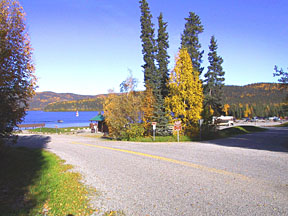 Visitors to the Delta area can enjoy a visit to Big Delta State Historical Park. There are also four different state recreation sites and a wayside nearby:
Big Delta State Historical Park, at Mile 274.5 Richardson Highway, includes the restored turn-of-the-century Rika's Roadhouse as well as several other restored cabins and buildings.
Rika's Roadhouse
The site of the Tanana River crossing of the gold rush trail from Valdez to Fairbanks. Delta Historical Society operates a museum in the old blacksmith shop; displays at the museum include period photographs and collections of pioneer and native Athabascan artifacts. A private concessionaire operates guided tours, a gift shop and limited food service. Parking, toilets and picnic sites are also available. Overnight camping is allowed.
Donnelly Creek Wayside is at Mile 238 Richardson Highway and includes camp sites, picnic tables and pit latrines. It's one of the more scenic campgrounds in the state, located as it is in a mountain valley.
Quartz Lake Recreation Area is best known for its excellent sport fishing opportunities. Three miles off the Richardson Highway at Mile 277.8, Quartz Lake offers campsites and overnight camping is allowed in the parking lot. There are also a boat launch, toilets, picnic sites and shelter, and water.
Mi 275 Richardson Hwy, Delta Junction, AK 99737
907-895-4201
Access this popular campground and boat launch site via Clearwater Road off the Alaska Highway or via the Jack Warren Road off the Richardson Highway. Facilities include campsites, boat launch, fire pits, water, picnic tables, and toilets.
Fielding Lake State Recreation Site is a scenic campground off the Richardson Highway at Mile 200.5. The rustic campground includes picnic tables, toilets, boat launch, and bulletin board.
1415 Alaska Highway/Clearwater Road/Jack Warren Road
Deltana, AK 99737
907-269-8400
Conveniently located near downtown Delta Junction, at Mile 267 Richardson Highway, Delta State Recreation site offers campsites with picnic tables and fire rings, water system, toilets, and picnic area. A gravel airstrip is located adjacent to the campground. This is a popular spot get your campsite early in the day!
For more detailed information about recreation areas, stop by the Delta Visitors Information Center or the Division of Parks office (895-2112), adjacent to the Delta Site on the Richardson Highway.
907-895-4201