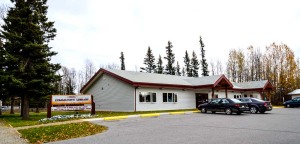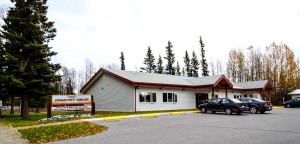 The Delta Community Library is located just off the Richardson Highway at 2291 Deborah Street (Milepost 266.5) across from City Hall and next to the Community Center. This new building was constructed in 2004 with Impact Funds from National Missile Defense at Fort Greely. A Community Library has been an important part of Delta Junction since 1960.
Hours:
Monday – Friday 
10:00 a.m. to 6:00 p.m.                         
Saturdays
11:00 a.m. to 5:00 p.m.
Closed Sundays, during State and Federal holidays, and when temperatures are -40 or colder (October – March)
Phone: 895-4102
Library Services:
-8 Public Internet Stations
-24 hour/7 days a week Wireless Internet Access
-Copies, Scans, & Fax Service (.25 per page)
-Free Paperback Exchange
-Preschool Story Hour & Baby Laptime
-Summer Reading Program
-Junction Readers Book Club (third Mondays @ 7:00)
-Knitting Circle (First Mondays @ 7:00)
-Distance Education Test Proctoring
-Newspapers & Magazines
-IRS & PDF Forms
-Government Review Documents
-& LOTS of great books – Bestsellers to classics and more!
The Library offers several outdoor picnic tables,  handicapped accessible restrooms, and friendly, professional library service. Visitors are welcome!